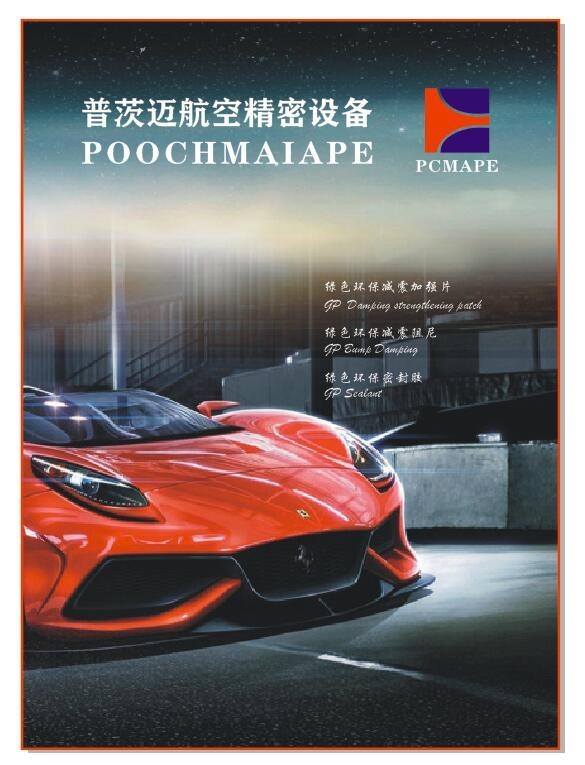 PCMAPE R&D headquarters is located in Dusseldorf, North Weizhou, Germany, and its production base is located in Zhoushen High-tech Zone, Kunshan City, Suzhou City, Jiangsu Province. The company integrates R&D, design, production, sales and service as one of the enterprises. With a heroic pace, it has created a leading brand in the automotive green damping industry.
To provide customers with safe and efficient green environmental protection damping patches, green environmental protection automobile damping patches, green environmental protection damping pads, green environmental protection butyl rubber damping materials, green environmental protection damping rubber sheets, the company's products are widely used in aircraft, satellites, rocket missiles, ships, tank battle vehicles, high-speed motor vehicles, automobiles, high precision machine tools, refrigerators, air conditioners and other military, aerospace, etc. Vibration and noise reduction in civil and other fields.
The main products are: vehicle waterproof film adhesive, butyl hot melt adhesive, hot melt pressure sensitive adhesive, hot melt foam adhesive, butyl rubber strip, automotive roof assembly with strengthening patch adhesive, PO hot melt adhesive, high viscous pressure sensitive adhesive, vehicle carpet floor gasket, solvent-free cold adhesive, vehicle vibration and sound insulation adhesive, damping reinforcement film, butyl rubber, lamp seals, vehicle door panel shock absorber, high-trains speed car shock absorber, high-speed rail Strengthened Damping Patches for Road Damping, Strengthened Damping Patches for Skin Damping of Fighter Aircraft, Civil Aviation Aircraft and Rocket Missile .
The products have special formulation processes such as odorless volatilization, non-toxicity, high temperature and cold resistance, flame retardant, green environmental protection and so on. They are widely used in the high-end automobile assembly and upgrading market in Europe, America and Southeast Asia, and are highly praised by customers. PCMAPE adheres to the principle of "customer first, service first" and adheres to the principle of "sincere, sincere and win-win cooperation", which has obvious competitive advantages and good reputation among peers. To provide efficient and high-quality services for our customers. Welcome to inquire and patronage, look forward to sincere cooperation! Company purpose: to provide buyers with the best quality products, the best service, the best price.